Presentation
Published 18.12.09
Volunteer programme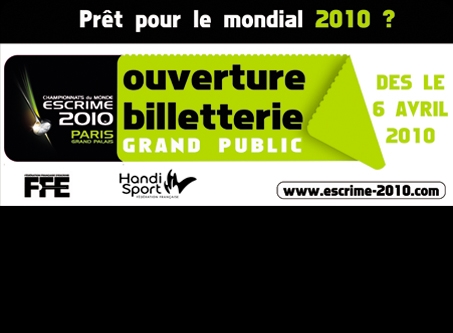 Nowadays, important sporting and cultural events require the help of large numbers of volunteers. Men and women of all ages are indispensable for the smooth running of such events. 
Being a volunteer for the World Fencing Championships 2010 will give you the opportunity to contribute to the success of an amazing French cultural event, held in the magical Grand Palais. It will also be an occasion for you to meet and make strong bonds with other volunteers and to discover the unique atmosphere of a great international sporting event.
After 9 years absence the World Fencing Championships are coming back to France on the 4 to 13 November 2010, with the addition of wheelchair fencing. So you will have the privilege to be in the company of these high-level athletes less than two years from the Olympic Games in London.
350 volunteer posts have been identified in a wide variety of positions: welcoming guests (airports, train stations, hotels, sites, etc.), administration (accreditation, ticket office, interpretation, catering, etc.), transport between sites, logistics and installation of equipment, the competition, medical care and health.
Considering the competition's time schedule (8h00-22h00), the participation of 600 volunteers will be necessary.
We need everyone's help! If you are motivated and dynamic, and you would love to be part of this adventure, send in you application right away via internet, and we will see you at the Grand Palais, to make FENCING 2010 a great event for everyone.
We're counting on you !
Questionnaire de « proposition de volontariat »